Welcome to the Petscop Wiki
This wiki is a work in progress, and Petscop is not yet a finished work. Please be patient with us!
With a total of 69 articles, and 2,183 edits, our wiki has been growing since its founding on April 17th, 2017.
Index
About
Petscop is an ARG about a PSX game of the same name. The videos are posted on Youtube on a channel of the same name and narrated by a person who may or may not be named Paul.
For more information about the Petscop game, see Petscop.
Latest activity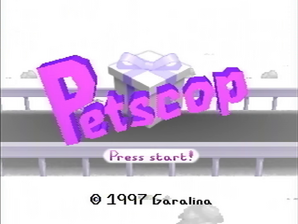 External Links
---
To-do list
---
Add everything relating to Petscop 7
Add a custom Wikia layout
Improve custom CSS
Add Navboxes
Wikia badges (pending!)
Episode pages? (perhaps later)
Add character color dropdown to editor (contact Petscopinvestigator if you'd like to help with this)
Ad blocker interference detected!
Wikia is a free-to-use site that makes money from advertising. We have a modified experience for viewers using ad blockers

Wikia is not accessible if you've made further modifications. Remove the custom ad blocker rule(s) and the page will load as expected.